Happy New Year!
Who is this article for? 
As we enter another new year, with more new year's resolutions and plans, we wanted to touch on an important topic to factor into your financial fitness regimen: the Emergency Reserve Fund. This is such a critical step to establishing and maintaining a healthy financial picture. Let's take a deeper look at why.
What are emergency reserves? Who needs them? How much does one need? Can I use my 401k or investments as my reserves? Isn't that what credit cards are for? Let's take a quick look at each of these.
At Allgen, we believe that in order to be successful in your financial life, there are some basics that everyone needs to have regardless of one's wealth. One of the most important fundamentals for all life stages (Foundation, Formation, or Freedom), is having an emergency fund. Everyone needs an emergency fund.
While we believe strongly in investing, other factors need to be in place before and while building for retirement, education, home ownership, etc. Emergency reserves are the money we set aside for a rainy day. This is money in a savings account earning almost nothing in interest.
Why would I do that when I could make 5-10% in the market?
Because money in the market is invested, thus making it more difficult to get to immediately. Your advisor/broker will have to sell positions in order to liquidate cash for you. Two issues with this: 1) you may be liquidating on a day/time that the market is dropping, thus locking in losses and 2) you may have to wait for a few days to receive the funds. Unfortunately, most emergencies happen at inopportune times.
Many job losses come when during a bad economy which usually coincides with a declining stock market. Therefore, if you were to lose a job with no emergency reserves you would be forced to sell when the stock market is down. It's even worse when you lose a job and have to pull from a retirement account, being charged penalties and taxes on the distribution.
If you have an emergency fund and lose a job you will be able to weather the next few months until you find another job, without pulling from your investments.
What would I use an emergency fund for?
Life happens. We just never know when it will happen or how much it will cost. Emergency funds are to be used for items that are unplanned. Examples are medical/dental bills, deductibles, higher than expected tax bill, unexpected travel (ex: funeral), car repairs, home repair, job loss, etc.
By having an emergency fund, you will not have to rely on credit cards or go into debt to pay for these unplanned events. Emergency funds are NOT to be used for expenses you can plan (new car, house down payment, property taxes, gifts, vacation). These should be worked into your budget and saved. "What budget?" you say. We'll cover that below.
How much do I need?
A general rule of thumb is 3-6 months of your household expenses. If you typically spend $5,000 a month to live, you would need $15,000-$30,000 in savings. We say 'general rule of thumb' because every situation is different. We must take into consideration if it is a dual income household, if there is passive income (ex: retired or rentals), if both incomes stem from the same company, etc. As stated above, every person, whether just starting out in life or enjoying retirement, needs an emergency fund! Each situation is different, but here are some general guidelines depending on your life stage.
Foundation Stage – $1,000 If you have consumer debt (i.e. credit card, car loan, student loans, etc.) then start with a smaller emergency fund allowing you to knock out the debt as quickly as possible.
Formation Stage – May need 3-6 months – Assuming you've already knocked out all of your consumer debt.
Freedom Stage – May need up to 1 year – Some on a fixed income may want to have a large lump sum to live off of for the following year, insuring that they have adequate cash flow regardless of what the market does.
It is best to discuss this with your financial advisor who knows your situation best and can help determine a more specific number.
Wow, that sounds like a lot.
You are not alone. A recent survey found that 69% of Americans have less than $1,000 in savings. 34% have no savings at all. Any amount you can squirrel away is great. Source: Go Banking Rates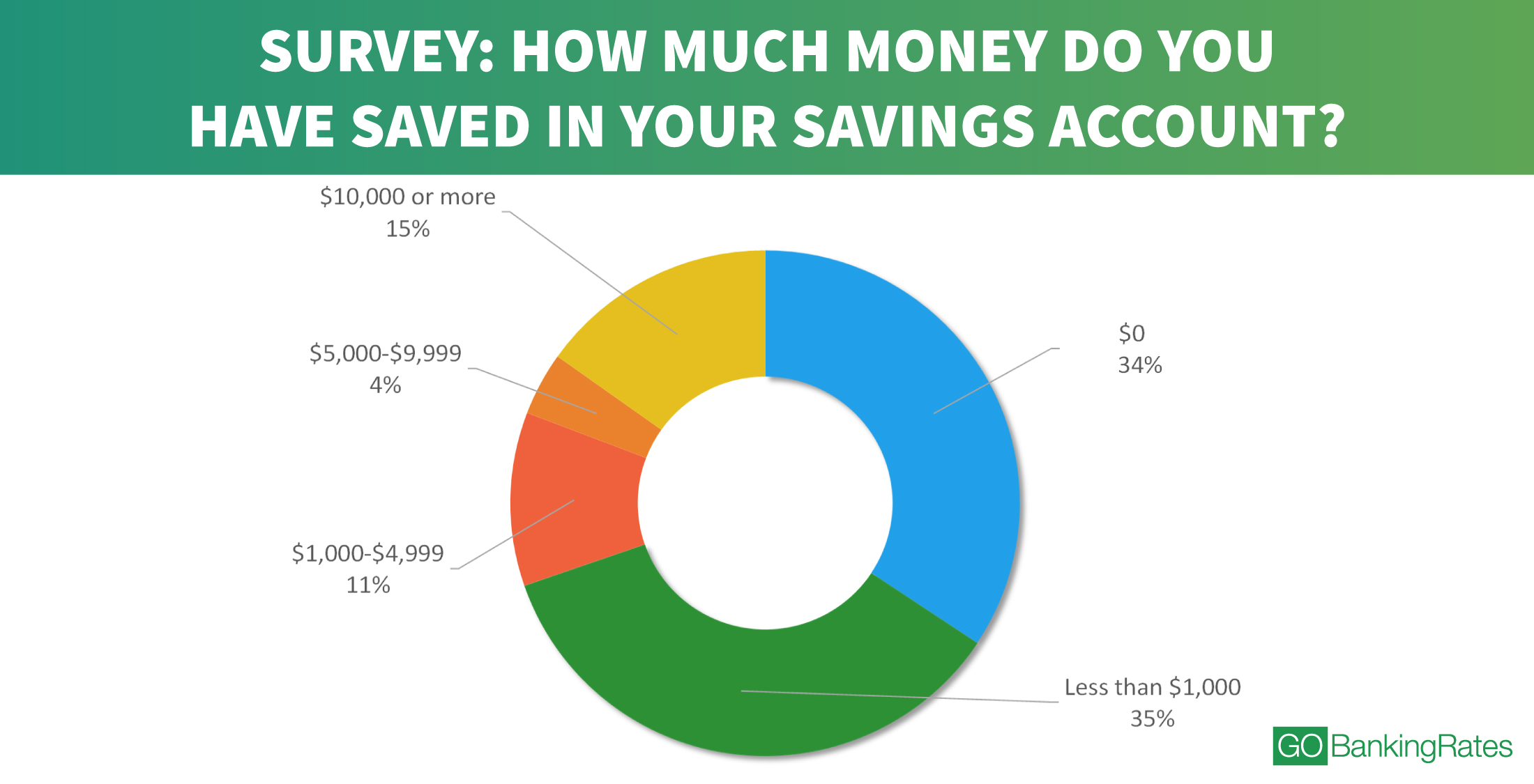 How can I save when I live paycheck to paycheck?
The most helpful thing you can do is to know where every dollar is going. This is where everyone's favorite word "budget" comes into play. There is no right or wrong way to budget. Some people like
online tracking while others use the envelope/cash system or a spreadsheet. The important part is that you actually do one. At Allgen, we offer our clients access to Wealth Tracker, which is an online tracking system. It allows you to see all of your accounts in one place and updates balances daily. A budget can be set up within Wealth Tracker where daily purchases will be categorized so that you can see if you are staying on track with your budget. For more information on budgeting, check out our previous Cash Flow Planning article we wrote.
Do I have too much in reserves?
While having too much in reserves is a good problem to have, it is still a problem. Currently most bank accounts earn less than 1% interest, while inflation has historically averaged 3-4%. If you have too much in reserves, you could be losing some of your purchasing power due to inflation each year.
Also, a typical well diversified moderate portfolio (60% stocks and 40% bonds) has historically averaged around 7% per year. Having too much cash in the bank and missing out on the compounding of your money over a long period of time could seriously stifle your growth potential over the long run.
Moving Forward
Emergency reserves are critical for every life stage:
They provide a buffer to unplanned events that life throws your way
They give you the ability to make it through difficult times without having to start over again
They help you avoid going into debt
They provide peace of mind
They keep you from having to sell your investments when things are down, allowing you to invest with confidence.
We look forward to assisting you with any questions you may have. We also invite you to stay connected with Allgen's market viewpoints and financial education. Our weekly "Money Minute" video series answers your financial questions and helps guide you on your path to financial freedom. You can find us via AllgenFinancial.com, Facebook, LinkedIn, Twitter and YouTube.
Written by Paul Roldan, Ana Fernandez, CFP® and Teresa Talton, CFP®, with Allgen Financial Advisors, Inc. Important Disclosures: The information provided here is of a general nature and is not intended to answer any individual's financial questions. Do not rely on information presented herein to address your individual financial concerns. Your receipt of information from this material does not create a client relationship and the financial privileges inherent therein. If you have a financial question, you should consult an experienced financial advisor. Moreover, the hiring of a financial advisor is an important decision that should not be based solely upon blogs, articles, or advertisements. Before you hire a financial advisor, you should request information about the financial advisor's qualifications and experiences. Past performance is no guarantee of future results. All expressions of opinion are subject to change without notice in reaction to shifting market conditions. Data contained herein from third party providers is obtained from what are considered reliable sources. However, its accuracy, completeness or reliability cannot be guaranteed. Examples provided are for illustrative (or "informational") purposes only and not intended to be reflective of results you can expect to achieve. Allgen Financial Advisors, Inc. ("Allgen") is an investment advisor registered with the SEC. Allgen does not provide personal financial advice via this material. The purpose of this material is limited to the dissemination of general information regarding the services offered by Allgen. It is not intended to be a solicitation or offer to sell investment advisory services to residents of any state in which Allgen is not currently authorized to do so. The Disclosure Brochure, Form ADV Part II, which details the business practices, services offered, and related fees of Allgen, is available upon request.